Insurgent Marketing, the Book.
Long ago, a myth was born: the myth that you're only one person, and you have to accept the world as it is. But what if I told you that you have the power to seize control of your life and change the world? And what if I told you that you could make a profit while you're at it?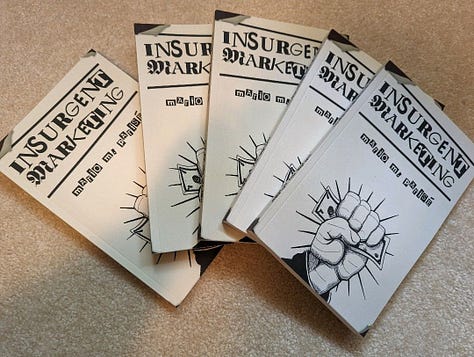 Welcome to Insurgent Marketing, the field where you'll rediscover your ability to create the future of your dreams with little more than your ideas, your words, and your brow sweat.
What would you do if you could find all the customers you could ever want? If you could attract the people who think the way you think, and form communities of paying customers who can't get enough of what you have to offer?
Would you take massive action? Or would you just go back to Monday-Friday, 9 to 5?
Buy it today on Amazon: Hardcover | Softcover | Kindle
For paid newsletter subscribers, a gift copy awaits you below, past the pay wall.
Keep reading with a 7-day free trial